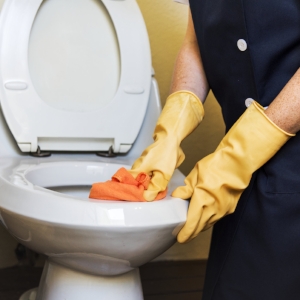 a) boat soap
b) dish soap
c) toilet bowl cleaner
Choose cleaners that are eco-friendly. If your interior or exterior cleaning is done for you, communicate with those individuals.
Of all the cleaners we use on board, these are the ones that end up down the drain and in the ocean. Many cleaning products contain ingredients that are harmful to aquatic life, water quality and the overall ecosystem. Some chemicals damage fish tissues, while others create nutrient imbalances leading to algal blooms.
What's more, toxic cleaning products may be jeopardizing crew health. Ingredients with known health hazards (cancer, asthma) are surprisingly common. Children born to women who held cleaning jobs while pregnant have an elevated risk of birth defects, according to a 2010 study by the New York State Department of Health.
Caution: Although we're not getting into countertop cleaners or disinfectants here, remember that cleaning must be done before sanitizing/disinfecting. And there is a time and a place for proper disinfectants in everyone's routine. Also, use caution if making your own cleaners.
Make the switch
A) BOAT SOAP (See our full list.)
Locally: Simple Green (Island Marine STT, Budget Marine STT). Starbrite Sea Safe Boat Wash (Budget Marine STT).
Online: Shurhold's Yacht Brite Brite Wash. Booyah Boat Wash. 3M Marine Boat Soap. Meguiar's Gel Wash. *Know where to find these locally? Contact us!
Homemade: Boat US Foundation offers these homemade boat cleaning ideas.
B) DISH SOAP (A/B-rated thru EWG's Guide to Healthy Cleaning. You can search their product index.)
HANDWASHING (See all 41 "A-rated" dish soaps.)
Locally: Dr. Bronner's Sal Suds/"A" (Natural Food Grocery, Fruit Bowl), Ecover Dish Soap Lime Zest/"B"(National Marine at YHG STT). *Do you know more? Contact us!
Online: Puracy/"A", The Honest Co Lemon Verbena/"A", Better Life/"A", Aspen/"A", Ecover Fragrance Free/"A", Ecos/"A". You can buy on Amazon or Vitacost.
Caution: Mrs. Meyer's Hand Washing Dish Soaps are "C-rated." GreenWorks Dish Soap is "F-rated." Seventh Generation Dish Soap is "C/D-rated." Some of these brands have other types of cleaners that are "A-rated." Be informed.
DISHWASHER (See all 19 "A-rated" dishwasher detergents.)
Locally: Unknown. *Do you know? Contact us!
Online: Seventh Generation Dishwasher Detergent Packs/Powder/"A", Biokleen Automatic Dish Gel/Powder/"A", The Honest Co. Gel/"A", Attitude Dishwasher Eco-Pouches/"A", Better Life Dishwasher Gel, Ecos/"A", Nice! Single Dose Packs/"A". You can buy on Amazon or Vitacost.
Homemade: In detergent compartment, add 3 drops regular dish soap + 2/3 full of baking soda + 1/3 full of kosher salt. Then fill rinse aid compartment with vinegar (more here).
Caution: Never FILL your dishwasher compartment with regular dish soap. You'll be swimming in bubbles.
C) TOILET BOWL CLEANER
Locally: SeaShine Scrub N Shine (Chelsea Drugstore). *Know others? Contact us!
Online: SeaShine line of products. Seventh Generation Toilet Bowl Natural Cleaner/"A". You can buy on Amazon or Vitacost.
Homemade: Use a combination of baking soda and dish soap, scrub with a toilet brush. For odor or heavy stains, soak with Sprite overnight, then scrub (YES, this works!). For the heaviest stains, wet the bowl and sprinkle citric acid powder (Natural Food Grocery), leave overnight, then scrub (magic!).
Caution: Mixing baking soda and vinegar creates lots of bubbles but renders both substances useless. Also, if done in a closed container it could "explode."
Professional Cleaners: If you're looking for a cleaning service that carefully sources their cleaning products and ecological impact, find Green Island Clean locally (STT).