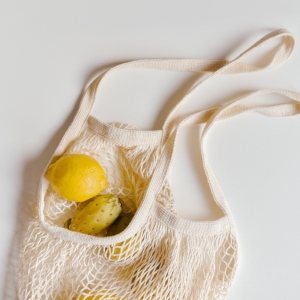 a) plastic grocery bags
b) plastic produce bags
Use reusable bags for groceries. Use smaller mesh bags for produce. If your shopping is done for you, communicate a game plan with your provisioner.
While the United States hasn't joined the ranks of 59 countries who've banned plastic bags (hello neighbors Antigua and Barbuda, Haiti, Bahamas!), many American cities (plus Hawaii and California) have instituted local bans. Virgin Islands Clean Coasts is helping local businesses change their routines and break their reliance single-use plastics!
Make the switch
Grocery bags: available at most local grocers.
Produce bags: Eco bags (Chelsea Drugstore STT).
Note: It's important that produce bags are mesh/transparent, as the cashier needs to see through the bag.
*Know another option we should mention here? Let us know!
Next…