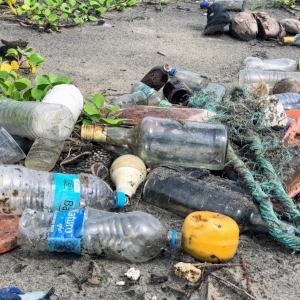 7. Avoid plastic water bottles
Offer premium water from your vessel's watermaker. Or filtered tap water. Or order reusable jugs from the local RO (reverse osmosis) water plant. Communicate this to guests before their arrival.
Plastic water bottles create unnecessary trash and pollution. We understand that some guests will insist on brand name bottled water. But for the rest, encourage them to drink from your freshwater tank. Use a water filter and a countertop water dispenser to make your water delicious and convenient. If the freshwater tank is not an option, the local RO water plant offers a pick-up/refill/delivery service for their reusable 3-gal and 5-gal jugs.
Make the switch
If you don't have a water maker, VirginH2O (340.776.7577) offers reusable 3-/5-gallon jugs of reverse osmosis purified water, along with a pick up and drop off service.
If you use dock water or you'd like some filtration for your tap water, consider installing a housing/filter system under your galley sink. They are economical (total setup should be $75-100) and readily available at Home Depot. Other options include filtering pitchers (Brita/Pür), as well as high end purifiers (Seagull). More about choosing the right filter for your boat here.
Next…