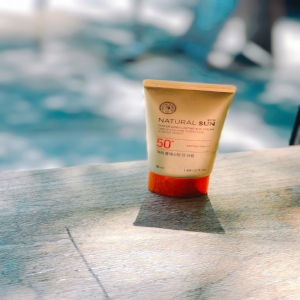 Clothing is the safest and most eco-friendly way to protect from the sun. Before your guests arrive, remind them to pack rash guards, long sleeves, long pants, and big hats. As a second line of defense, recommend they bring mineral-based sunscreens, or provide it complimentary.
When choosing a sunscreen, guests and crew should check the "active ingredients" label for two things:
1) They should include only the minerals zinc oxide and/or titanium dioxide
2) These minerals should be non-nano.
Do mineral sunscreens work? They are FDA approved (zinc oxide against UVA1, UVA2, UVB; titanium dioxide against UVA2, UVB). Business Insider tested out their favorite mineral sun protection.
Sunscreen chemicals oxybenzone and octinoxate have been widely studied and linked to coral damage, even in small concentrations. Some governments are even passing legislation to ban their sale. Chemicals like octocrylene, homosalate, and octisalate might also be harmful, but they need further studying. Chemical sunscreens work by seeping into the skin and may be absorbed into the body, and the FDA notes that "use of sunscreen products as directed may result in unintended, chronic, systemic exposure to sunscreen active ingredients."
The National Parks Service notes, "While no sunscreen has been proven to be completely 'reef-friendly,' those with titanium oxide or zinc oxide, which are natural mineral ingredients, have not been found harmful to corals." Know that the term "reef safe" isn't federally regulated, so you can't rely on that label as an indicator. Avoid that "greenwashing" trap.
It is estimated that 90% of snorkeling/diving tourists are concentrated on 10% of the world's reefs, so our most popular reefs are exposed to the majority of sunscreens (see this mention of Trunk Bay). While climate change, marine pollutants, overfishing, boat groundings, and disease are, on a whole, much bigger factors to coral reef health, the highly visited reefs of the Virgin Islands are among those most vulnerable to the effects of sunscreens. We can help change that.
Make the switch
Note: Mineral sunscreens tend to leave a white film. We've underlined those that are reported to be "sheer." Some products that leave a film on the skin will do so on upholstery too.
Locally: Naked Zinc* (Chelsea Drugstore STT, Bamboula STJ). Raw elements tinted (Big Planet STJ).
Online: Stream2Sea, ThinkSport SPF 50+, All Good, Badger, Babyganics, Blue Lizard, Trident, Babo Botanicals, Loving Naturals, Burn Out Eco Clear.
Other: Rash guards and protective clothing (Ocean Surfari STT, Caribbean Surf STT, Island Marine STT).
Caution: Most SunBum and Alba Botanica products use chemical ingredients. We recommend mineral active ingredients only, as per the National Parks Service. See the Environmental Working Group's Guide to Sunscreens for product ratings.
*Know another option we should mention here? Let us know!
Next…