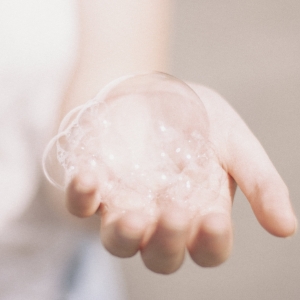 8. Use greener toiletries
a) shampoo & conditioner
b) body soap
c) hand soap
d) lotion
Choose toiletries with simple, natural ingredients.
The products we use on our bodies wash off in the sink and shower or when we jump into the ocean. Harmful chemicals in these products can be deposited right onto the reefs where we moor, and the damage accumulates. Ask that guests bring eco-safe toiletries, suggest they buy locally (see below), or provide them complimentary.
There are several local soap makers whose products are natural with no added chemicals. Buying local reduces the carbon footprint, may be refillable, and supports our local economy. The ingredients will probably be simple and easy to decipher, and local vendors may be able to customize products. Plus, artisanal bar soaps are a great suggestion for guests looking for souvenirs!
For a great primer on ingredients, see the Skin Deep Cosmetics Database or search by ingredient at SafeCosmetics.org. Avoid sodium laureth/laurel sulfate (skin irritant), parabens (preservative linked to [breast] cancer), phthalates (linked to reproductive issues in men), triclosan (toxic to aquatic life), "fragrance" (allergen and can contain hormone disruptors), and choose surfactants that are plant-based (especially coconut oil or castile soap).
Make the switch
a) Shampoo & Conditioner
b) Body soap
c) Hand soap
d) Lotion
e) Other
Next…